Hello and welcome!
I am Jennifer Rehor, co-author of Women and Kink: Relationships, Reasons, and Stories!
I am a Licensed Marriage and Family Therapist, an AASECT-Certified Sex Therapist, and a Clinical Supervisor. I received a master's degree in Psychology / Marriage and Family Therapy from Brandman University, and a master's degree in Human Sexuality from San Francisco State University. I have been a guest lecturer for cultural competency in working with kinky clients at various universities' MFT programs as well as an Adjunct Faculty Instructor at Alliant International University, teaching their graduate-level Sex Therapy course.
I am the founder and owner of Affirming Therapy Center (ATC) in San Diego, California, a group private practice with a team of sex-positive clinicians who are committed to serving people with Gender, Sexual, and Relationship Diversity (GSRD), including LGBTQ, kink, BDSM, sex work/adult industry, and non-monogamy. At ATC, I offer individual therapy and couples counseling, helping adults with anxiety, depression, relationships, sexual health, life transitions, and personal growth, and to increase intimacy and sexual satisfaction.
But that's not what you are interested in, is it…? The fact is, everyone has a story and, since this book shares stories from so many women, I thought I'd share a little bit of my story as well.
In many ways, I have lived two lives.
I am a first-generation American. My parents are Jewish political refugees from Egypt and instilled in me their traditional Old World views and beliefs. In my family, expectations of gender, dating, marriage, education, and stability were explicitly and implicitly communicated. Despite growing up in liberal and progressive Southern California, I easily fell into a traditional relationship, married young, and chose a secure career in Corporate America.
My life was predictable and simple. I lived how I'd been taught, playing it safe and fitting in. I was well on my way to the house with a white picket fence. Not that there was anything wrong with that; it just never felt like "me".
All along the way, I knew something was missing. I did not feel the sense of accomplishment I thought I would have from meeting my goals. The marriage, the job, the lifestyle, all the parts of my life so neatly and perfectly aligned — left me feeling empty inside.
When I finally found the time to stop and take a good, hard look at my life, I realized that my goals were more reflections of other people's expectations than of my own desires.
I thought to myself, "Wait! How did I get here?"
I was unhappy and unfulfilled, not only with my job but also with my marriage. Over the years, my husband and I had grown in different directions and, regrettably, by the time we recognized the severity of our issues, it was too late to salvage our marriage. Even though I still loved him (and will always have love in my heart for him), we knew it was over. So after 13 years of being in a serious, monogamous relationship, we divorced.
I was single. For the first time in my life, I didn't have to explain myself, account for my choices, or justify my actions to anyone, not even to myself.
My second life began. I broke away from my conservative traditions and freely explored the world.
I was in my late 20s and surprised myself by falling in love with another woman. As simple as it sounds, I had never really questioned my sexuality before my best friend, "Kay", kissed me. That kiss, filled with unspoken and forbidden emotions, overwhelmed me with a flood of love and desire.
I was seeing a therapist, and when I described my newly-found deep and confusing feelings toward Kay, I was met with judgment and dismissiveness. My therapist told me what percentage of men would not consider dating a woman who had been in a relationship with a woman, and asked me to think twice before pursuing a relationship with Kay.
I shut down, realizing I was alone on this journey, on my own to figure out my sexual orientation and identity. This was a painful and lonely process for me.
~ Looking back, I realize that these key experiences were actually the starting point of my journey to becoming a sex therapist. ~
Thirsty for information and validation, I began attending adult sex education workshops, seminars, play-parties, and dungeons. The lectures I attended covered various topics about human sexuality, relationships, dating, and intimacy geared toward a variety of gender and sexual orientations. These events marked the beginning of my personal involvement with kink.
I quickly learned that not everyone is as eager to explore their own sexual orientation as I was. In fact, Kay had admitted she was in love with me too, but that she did not want to "live the lesbian lifestyle." For her, the choice was either continue pushing back against the world or try to find her "white knight" to save her. She chose the latter, and I was heartbroken.
Over time, I moved on and continued my inner exploration with years of intense self-discovery and growth. This phase was my "personal sexual revolution", whereby I finally got to a place of acceptance and understanding of my sexual identity as a bisexual kinky polyamorous woman (among other things).
During this time, I had dated interesting men and women, was fascinated by each person's erotic landscapes, explored dungeons, indulged others' fetishes, and found my own sensual creativity.
As all this was happening, I experienced two layoffs and my career in marketing felt more and more like a dead-end job, or string of jobs. I realized that success cannot be measured by a job title or salary alone. I always had a strong desire to help people on a personal level, but I realized that my career was only helping corporations to make more money.
I entered into a new, loving and supportive non-traditional relationship with Tom. I was upfront with him about my identities and he accepted me fully. He was aware of my job burnout and layoffs and really encouraged me to follow my heart.
After a great deal of soul-searching, I decided to walk away from my career, go back to school, and pursue a new profession in Sexology. Tom and I moved to San Francisco so that I could pursue a Master's Degree in Human Sexuality at San Francisco State University. During my time in this program, I became more aware of my interest in providing counseling and therapy services, especially to couples and individuals seeking to heighten, strengthen and improve their intimate relationships.
So, once I had completed the research and theory-based MA program at SFSU, I went on to earn a second Master's degree in Psychology with an emphasis in Marriage and Family Therapy. I know I took the long way, but having the education in both of these programs has allowed me to specialize my practice around issues pertaining to sexuality – in health, relationships, and intimacy.
But my journey was not all academics, research, clinical hours, supervision, and trainings. While I was working on my second career, I pursued my own personal interests, including volunteering at various LGBT Pride events, continuing to attend Desire Leather Women annually, and becoming the Organizer of the San Diego Bisexual Meetup Group for 3 years. I attended International Mr. Leather* twice (I had a full length custom leather dress boot-blacked at IML!). I am constantly working on the challenges and joys of having a non-traditional / open marriage, I enjoy co-owning a human pet, and I have attended grand events such as DomCon LA, AVN in Las Vegas, Montreal Fetish Weekend, and the Eccentric Fashion Weekend in Switzerland.
I travel for Sexology and Psychotherapy conferences and for pleasure. My adventures have taken me to places like Porto, Madrid, Pleiskirchen, Munich, Prague, Kandersteg, Montreal, Chicago, New York, Washington D.C., Hawaii, Dominica, Guadeloupe, Mexico City, Samos, Athens, Kuşadası, Edirne, İstanbul, Reyhanlı, Havana, Caorle, and Florence. In each location, I try to explore the exotic venues such as local sex toy stores, nude beaches, adult theaters, erotic museums, dungeons, and the local kink communities. And, of course, sample the food, experience the culture, and meet the people who live there. Each location is unique and lovely in its own right.
There is still so much more to explore!
* My first visit to International Mr. Leather was not planned. My husband and I were flying to Chicago to attend a sex conference and, on the plane, my husband noticed quite a few men wearing revealing pants as they walked past him. He pointed them out to me, paraphrasing Derek Zoolander, "There are a lot of really, really, ridiculously good looking men on this plane." And there were! We spoke to a couple of them, and they told us about IML. So, we decided to attend. On the day of the event, when we walked through the door and handed the staff member our tickets, he said, "You do know what type of event this is, right?" We can tell you, it is nothing but FUN!
My journey toward this path has been both the culmination of my evolving, personal sexual awareness and the result of a vocational epiphany.
I am now a Licensed Marriage and Family Therapist and an AASECT Certified Sex Therapist. My private group practice, Affirming Therapy Center (ATC) in San Diego, specializes in helping individuals and couples with issues of sexuality. Each clinician at ATC is committed to serving people of gender, sexual, and relationship diversity (GSRD), including LGBTQ, heterosexual, kink, BDSM, sex work/adult industry, single, monogamy, non-monogamy, swinging, polyamory, and a variety of relationship dynamics and family configurations. My primary goal is to provide a space for each of our clients to openly explore their needs, wants, desires, feelings, thoughts, and emotions. To process through any shame, to explore the messages they received about sexuality through their lives, and most importantly, to help them feel a little less alone – they should not have to go through this process the way that I did!
Normalizing sexual behaviors, encouraging people to pursue and explore their sexuality to create stronger, meaningful relationships – all the while fostering an understanding that different is not wrong – this became my life's work and is now my focus and my heart's calling.
As I look back on the path that brought me here, I recognize that my journey was one defined by tradition, turmoil, perseverance and, necessarily, self-realization. I was raised with conservative traditions, had a conventional marriage, and established a stable, successful career—all of which I left behind to follow my dreams. I am now making more of my life than I ever imagined possible. And it is my heartfelt desire to focus my knowledge, experience, research, and insight into a viable and valuable tool that inspires people to live the fulfilling lives they deserve.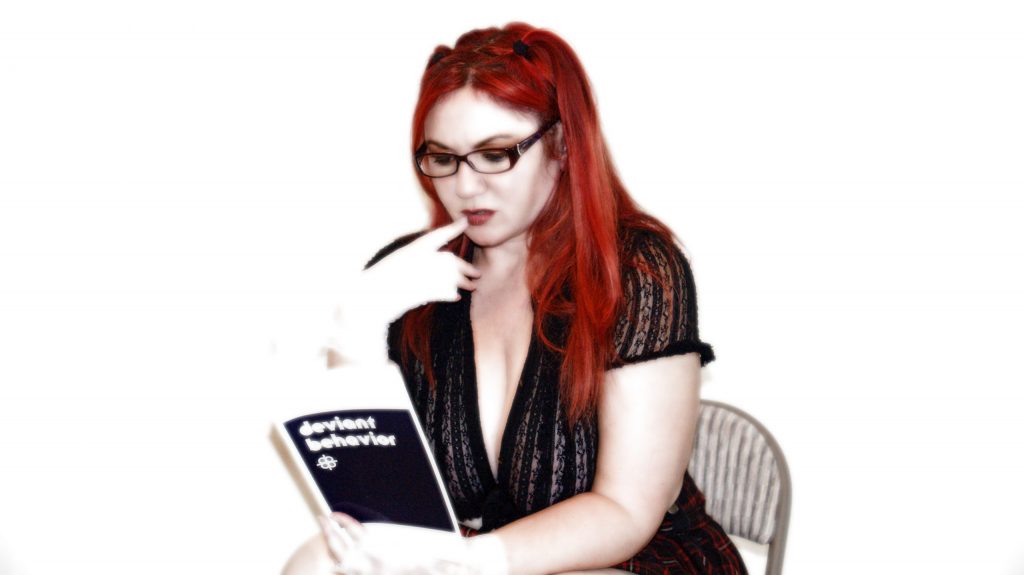 So, curl up with a good book—perhaps Women and Kink: Relationships, Reasons, and Stories ?—and start dreaming your own dreams.
Here's a short highlight reel of me — exploring the world.